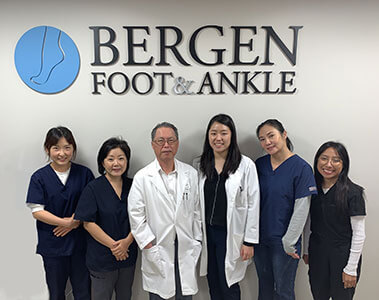 Foot conditions can seriously impact your mobility and your quality of life, but our podiatrists can help get you back on the move again! Podiatry is a branch of medicine devoted to the disorders of the foot & ankle from skin to bone, and medical and surgical treatment of those disorders.
Our podiatrists are highly trained physicians and surgeons, focusing on the foot, ankle, and the lower extremity and should be an important part of your health-care team.
We have offices located both in Fort Lee, NJ, and Flushing, NY. We are affiliated with: Holy Name Medical Center, Global Surgery Center at Oradell NJ, SurgiCore Surgical Center at Saddle Brook NJ, Mount Sinai South Nassau, and Long Island Jewish Forest Hills.