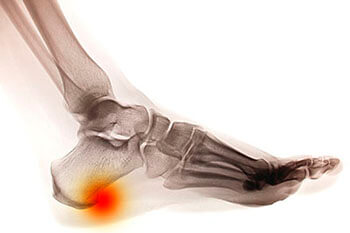 Heel Spurs Treatment in Flushing, NY & Fort Lee, NJ
Heel spurs are deposits of calcium that build upon the underside of the heel bone. They are usually caused by excessive strain on the foot muscles and ligaments and are especially common among athletes. Other risk factors for developing heel spurs include being overweight or obese, wearing ill-fitting shoes, and having an abnormal gait or walking pattern.
Heel spurs often don't cause any symptoms and go undetected. When they do cause symptoms, it is usually because of soft-tissue injuries around the heel spur, rather than the heel spur itself, that is the root of the problem. The most common symptom of a heel spur is a sharp or stabbing heel pain that is at its worst when you take your first few steps after a long period of rest, such as when you get out of bed in the morning. The pain may become a dull ache as you go about your day. Sometimes a heel spur can also cause intermittent or chronic pain when you walk, jog, or run.
Heel spurs are typically diagnosed through a physical examination and imaging studies like X-rays. Treatment recommendations may include doing certain foot stretches, modifying your footwear, wearing orthotics, or using night splints. Over-the-counter medications can be used to relieve pain and inflammation. Surgical treatment may be considered if more conservative measures have failed to alleviate your symptoms, but surgery is rarely required for heel spurs.
If you are experiencing heel pain, please see a podiatrist for a proper diagnosis and treatment plan.